Brandon's a very popular
Member
on Challengeyou.com.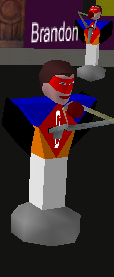 He joined July 21st 2007 and is one of the oldest members online. Brandon's a
Beta Tester
and is known for his classic, fun and exciting games such as
Brandon Arcade
, CY Grand Coaster and the 4th most popular game on ChallengeYou, CY Grand Carnival. His most classic game is
Tic Tac Toe
and he has made many multiplayer games. He currently has over 10 games with over 1000 plays. He is an awesome member and he keeps on making awesome stuff.
Click hereto play Brandon's most popular game, CY Grand Carnival.