The only game editor in ChallengeYou is the aMazer editor (named by ChallengeYou) is a grid full of dots. You can quickly edit games throughout the editor.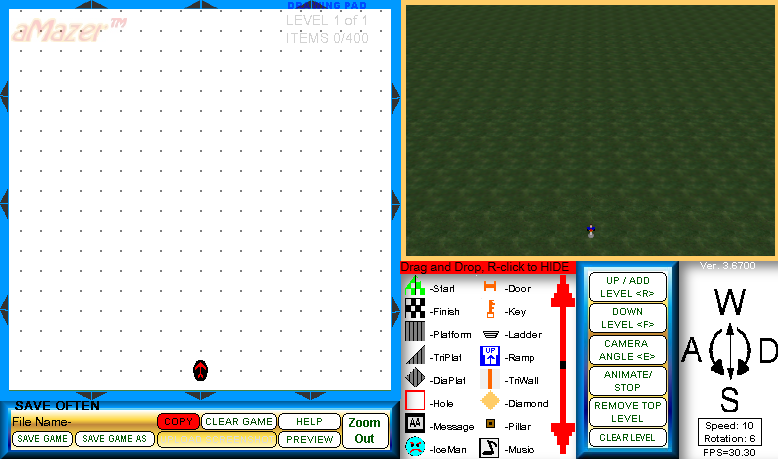 This is a example of a editor:
Note: It speed and rotation can be different, also the graphic color. The red arrow with a black background is where your character is and can be moved by the <W,S,A,D> key or dragging it.
Save Game - Saves your game when edit and changes are made. You can still change in public.
Save Game As - It makes a copy. Good for not to waste time rebuilding everything.
Copy - A Copy & Drag or Paste feature which can move a single thing, the moving building is NOT perferable. As it will mess up the game and give a lot of glitches. You can fix the glitch by deleting and reputting the wall.
Clear Game - It will clear the entire game. A warning will come up if you accidently clicked it by mistake.
Help - It tells everything that you need to know on ChallengeYou playing.
Preview - Many people perfer to save the game then preview it, you cannot finish it or take portals. Not effected. Not strongly Recommended
UPLOAD SCREENSHOT - You need to save the game. It takes a picture of your current view and the picture will show when you "save". (Strongly recommended)
Item Pane
Edit
The drag and drop item pane is the base of the aMazer Editor.
Using it is simple. Just drag any object into the grid to place it.
You can adjust an item's settings by right clicking it.